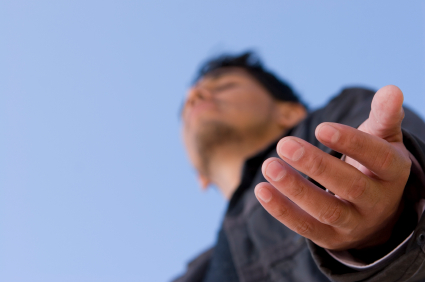 Have you ever been talking to someone, and during conversation a need is mentioned? Perhaps there is a financial problem, a relationship crisis, or some other issue.
And in the moment, you realise that you have a window of opportunity to suggest prayer.
Or someone in your world becomes sick, or is injured. And an opportunity arises when you could offer to pray.
But you hesitate.
Perhaps you think,
'I am not sure how to pray.'
'What if they don't want me to pray?'
'What if I pray and nothing happens?'
As Christians, we should make it our aim to become comfortable with praying on the spot for people when they have a need.
We can also become familiar with sharing an encouraging word from God: even to someone who does not know Jesus.
Today I would like to share some simple, Biblical ways that you can pray for others—whether for healing, or other needs—in everyday life.

Before you begin, remember that the simpler the prayer and more natural the language you use, the better—especially when praying for someone who is not a Christian.
How To Pray For Healing And Other Needs
1. ASK the Father
"I chose you and appointed you so that you might go and bear fruit—fruit that will last—and so that whatever you ask in my name the Father will give you." John 15:16
Jesus said that when we pray, we can ask the Father in His Name.
We can ask for God to intervene supernaturally, whether it is a healing, provision, comfort, help, or something else that is needed from God. '
"Father' I ask that you would… [meet this need] in Jesus' Name"
Some people think that this simple kind of petition is inferior to other types of prayer, but it is not! Asking is the privilege of royal sons and daughters, and our Father waits for us to ask. (Matt 7:7-11)
It also demonstrates to those we are praying for, and any onlookers, that it is possible to have a personal relationship with God, and that He loves them and cares for their needs.
2. ADDRESS the Issue
'[Jesus] gave them power and authority to drive out all demons and to cure diseases.' Luke 9:1b
When praying, we can also exercise our spiritual authority in Jesus' Name and directly address the sickness or problem (especially if we discern that the issue is demonic in origin).
When you read the Gospels and Acts, you can see how Jesus and the Apostles used words of authority to heal the sick and set people free.
We exercise authority by faith, in the Name of Jesus. "It is Jesus' name and the faith that comes through him that has completely healed him, as you can all see." Acts 3:16
3. ASSESS for Improvement
'Jesus asked, "Do you see anything?" He looked up and said, "I see people; they look like trees walking around."' Mark 8:23b-24
Jesus frequently required those He healed to do something they could not do before. (Matt 9:6, Mark 5:41, John 5:8)
If you are praying for healing, and it is possible to check whether the condition has improved or pain relieved, enquire with  the person you are praying for. This exercises your faith, and creates a sense of anticipation.
We are expecting God to move in answer to our prayer. [1]
4. ALLOW for Related Concerns
'Carry each other's burdens, and in this way you will fulfill the law of Christ.' Galatians 6:2
If you have a longer time to pray, or if you are journeying with someone, you can express caring in your prayers by praying for other needs that relate to the issue you are praying for.
For example, someone with a medical condition may have medical appointments or surgery you can pray about. There may be emotional responses to care for, family members who are involved, or financial needs as a result of the problem.
Stepping Out in Prayer
If offering prayer for another's needs is new to you, begin in an environment where you feel most comfortable and step out from there, e.g., in your immediate family, or with Christian friends.
The main thing is to begin—to have a go. Eventually you may discover a prayer style that most suits you.
Be sensitive to the Holy Spirit and allow Him to direct you as to the best way to pray at any given time.
Imagine what could happen if every Christian brought people face to face with God through prayer during times of need! This week, let's express God's love and power to someone in our world by offering a prayer.
---
Notes:
[1] In prayer, as with prophetic ministry, our aim is to create a safe environment for people to connect with God. When someone you pray for receives physical healing, instruct them to continue to take prescribed medication until he or she has received medical advice and had the healing confirmed. If you feel led to place a hand upon someone when you pray, check with them first if it's OK.
---
Related Posts:
How to Share A Prophecy With Someone Who Is Not A Christian
7 Reasons Why You Can Pray for Healing
10 Signs You May Have the Spiritual Gift of Healing
---
Do you have any questions or testimonies about giving or receiving prayer for healing and other needs? Share it with us in the comments section of this article. If the comments box is not visible, click on this link and scroll down.
---
© Helen Calder Enliven Blog – Prophetic Teaching
On team with David McCracken Ministries: Prophetic Ministry That Empowers The Church
Did you receive this from a friend? Read more from Enliven Blog or sign to receive our weekly prophetic teaching updates at https://www.enlivenpublishing.com/blog