If you are feeling dry today, or long to see fruitfulness in your life again, the River of Life—the Holy Spirit—can flow once more through your life.
For God is meeting the thirsty with a fresh encounter.
---
"River to the Nations"

I have fond memories of a ministry trip that we did as a family through the South Island of New Zealand in 1998.
We were traveling with our two children, then aged 8 and 5 years old. Our theme for that particular trip was "River to the Nations" and for fun, whenever we passed by or crossed over a river during the long hours of traveling, we would all shout "River!"
To this day, when my husband Malcolm and I are driving through the countryside on our way to minister in a church, we have an urge to call out "River!" when we pass by a river (and sometimes do!)
6 Biblical Insights About the River of Life
1. A river flowed out of the Garden of Eden, the place where God communed with Adam and Eve.
This river separated into four headwaters, sending out life-giving waters through the land. (Gen 2:10-14) In this way, God prepared a means of sustenance and life for nations and peoples before they were even in existence.
2. The Bible begins with an earthly Eden and an earthly river and ends with a Heavenly Eden and a Heavenly river.
In the last chapter of the Bible, we read of the river of life flowing from the throne of God: "On each side of the river stood the tree of life, bearing twelve crops of fruit, yielding its fruit every month. And the leaves of the tree are for the healing of the nations." (Rev 22:2)
It is the final page of Scripture, and we again see God's heart for nations and peoples.
3. Healing is associated with the River of Life.
Ezekiel also had a vision of a River with life-giving properties flowing out from the temple, after God's glorious Presence had returned there. Trees surrounding the river bore fruit for food and leaves for healing. (Ezek 47; 43:2-5, Rev 22:2)
4. The River of Life brings a harvest.
Once there were no fish, but now fish abound, and fishermen spread their nets for an abundant catch. (Ezek 47:9-10) The harvest on God's heart is souls—people from every tribe and tongue. (Matt 4:19, Rev 7:9)
5. The River of Life is a source of joy.
The Psalmists say:
"There is a river whose streams

make glad

the city of God, the holy place where the Most High dwells." (Psalm 46:4)
"[People] feast on the abundance of your house; you give them drink from your river of delights." (Ps 36:8)
6. The River of Life flows from God's Presence
Consistently, we see that the River of Life flows from the very seat of God's Presence: the place He inhabits and reigns. (see above scriptures and also Joel 3:18)
---
The River of Life is Personal
"Jesus stood and said in a loud voice, "Let anyone who is thirsty come to me and drink. Whoever believes in me, as Scripture has said, rivers of living water will flow from within them." By this he meant the Spirit, whom those who believed in him were later to receive." (John 7:38-39a)
Jesus said that when we drink from Him, receive His life, and are filled with His Holy Spirit, rivers of living water flow out from within our lives.
The River not only flows from His Presence—it is His Presence—His Holy Spirit. And from the River of His Spirit flows salvation, healing, transformation and the joy that comes from knowing and partaking of God Himself.
A look at the Gospels and the book of Acts demonstrates this, as Jesus and His followers go about announcing the Good News, and healing and miracles flow.
(The invitation of God to someone reading this right now is—to step into this River by faith).
---
Do You Feel Dry?
A river has movement, and like a river, we need to have both inflow and outflow in our lives.
The River of God has a source—the intimate Presence of God—and an influence, bringing salvation, life, and healing to people. But if we stop partaking, and we stop receiving, we may begin to feel spiritually dry. We stop "spilling over."
People around us are not being drawn by God's Presence in our lives. We stop speaking out about God's goodness because we ourselves are living in pain, discouragement, or doubt. When this happens, we need to reconnect with God again.
---
Come and Drink from the River of Life
In Ezekiel 47, the Prophet sees that the River of Life hits the Dead Sea. And when the River collides with the Dead Sea, the salt water becomes fresh. As it does, the Dead Sea becomes a host to life once more.
So, if you are feeling dry today, or long to see fruitfulness in your life again, the River of God—the Holy Spirit—can flow once more through your life.
The invitation of Jesus to "come and drink" is not a one-off invitation, but His life and Presence are continually available to you.
The Apostle Paul said, "Do not get drunk on wine… Instead, be filled with the Spirit." (Eph 5:18) The Greek words translated, as "be filled," are in the continuous present tense.
Ezekiel's vision of the River of Life which went deeper, measure by measure, tells you that no matter what you have experienced in God's life and Spirit, there is always more. (Ezek 47:3-6)
And the ripple effect of what God is doing in your life may impact nations.
---
Related Posts:
Prophetic Word: "I am Coming to the salty Places!"
7 Prophetic Insights from the Jordan River
Crossing the Jordan River: 3 Words to Unlock Your Destiny
---
The Enliven Prophetic School: Classes for Those Growing in Prophecy
Would you like clear, easy-to-understand, Biblical teaching on the prophetic gift and ministry?
Do you need some straightforward keys to get you on track as you learn and develop in prophecy?
My own experience of struggling to find good mentoring is why I am extremely passionate about helping others learn how to hear God's voice and grow in their gifts of prophecy and discernment.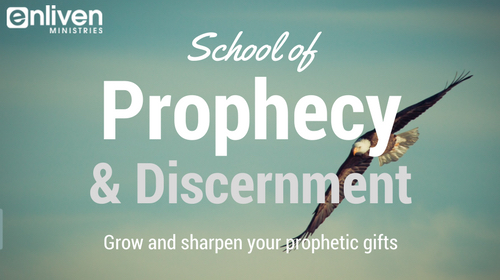 Classes include: How to Hear God's Voice, How to Begin and Grow in Prophecy, The Character of the Prophet, The Seer Gift: How to Grow in Pictures and Visions, Prophetic Discernment, Discernment, Prophetic Warnings, and the Prophetic Guidance Master Class.
You can view and sign up for my self-paced video lecture series in the Enliven Prophetic School here. 
---
© Helen Calder Enliven Blog – Prophetic Teaching
Enliven Ministries: Prophetic ministry for a revival generation