Prophetic intercession is simply praying for another person, group or situation by the direction of the Holy Spirit. This guidance comes by way of prophetic revelation—in other words, the Holy Spirit is making something known that is not comprehended by natural means. [1]
All Christians can expect to receive the Holy Spirit's guidance to pray at certain times. Some, however, will be especially gifted in this area.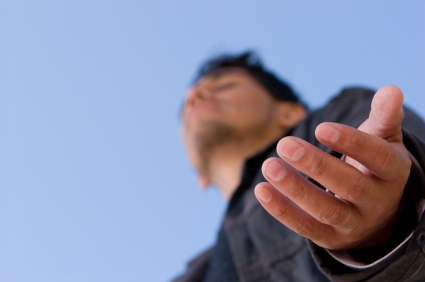 My husband Malcolm and I learned the value of having a prophetic intercessor on our prayer team throughout our years of ministry in New Zealand.
During our most difficult trials, one of our personal intercessors—an elderly woman named Marge—would invariably phone us. Her opening words after greeting us would be, 'What is going on?' Marge always knew by the Holy Spirit when we were having our fiercest battles, and her insights and prayers were a constant encouragement to us.
The Unique Role of a Prophetic Intercessor
During the years I led the prayer department of our church, I grew to appreciate the different kinds of prayer gifts:
There were the prayer warriors who would pray every day, on a regular basis. Regardless of what was going on, you knew you could depend on them.
Some prayer partners thrived on written or emailed prayer requests—and we honoured this by keeping in regular touch with them.
Still others came to the fore when there was a crisis—swelling the ranks of prayer partners when called upon during an emergency.
A prophetic intercessor operates on a different kind of alert system – being directly alerted by the Holy Spirit as to when there is a need to pray.
The benefit of this is revealed during times when you are in a spiritual battle, or in a crisis where you do not have the ability to send out a general prayer request.
As a leader, I have learned not to place expectations on prophetic intercessors to operate outside of their natural gifting. The communication of prayer requests and testimonies should be seen as fuel for their gift, rather than an expectation that they will pray at a certain time or in a certain way.
Traits of a Prophetic Intercessor
I learned personally about prophetic intercession when the Holy Spirit awakened the gift in me during the 1990's.
As with all spiritual gifts, no two prophetic intercessors will experience the leading of the Holy Spirit in the same way. Some ways that the Holy Spirit can lead a prophetic intercessor in prayer include:
1. The simple 'knowing' that prayer is needed at a certain time.
2. A sudden or growing burden or urge to pray.
3. Receiving insight from God through prophetic revelation such as a scripture, vision, word or feeling.
4. A sense of identification with the object of prayer—in other words feeling the needs of those being prayed for.
5. Sensing the heart of God towards the person or situation requiring prayer.
Note that both 4 And 5 may result in what seems to be an emotional response. This may either prompt the prayer, or manifest during the prayer.
As a prophetic intercessor, I  learned one key difference between my own emotions and those awakened by the Holy Spirit for the purpose of prayer. Feelings allowed by the Holy Spirit for the purpose of prayer can (and should) be released completely through intercession.
6. A prophetic intercessor may at times experience the deep 'groanings' of the Holy Spirit. [2] He or she understands what Paul writes about in Romans 8:26-27:
'In the same way, the Spirit helps us in our weakness. We do not know what we ought to pray for, but the Spirit himself intercedes for us through wordless groans. And he who searches our hearts knows the mind of the Spirit, because the Spirit intercedes for God's people in accordance with the will of God.'
Important Reminders for Prophetic Intercessors
From the viewpoint of those of us who are not gifted in prophetic intercession, a prophetic intercessor that is lacking in maturity may seem 'flaky.' However, he or she may simply be in need of some pastoral leadership and guidance in the use of the gift.
I have discussed some strengths of prophetic intercession above. Some things a prophetic intercessor may need to be gently reminded of at times are:
1. Don't be intimidated by others' prayer gifts (such as those who have an ability to pray more regularly). You have a unique and precious gift from God. [3]
2. On the other hand, don't expect all intercessors to experience prayer the way you do. Their gifts are different but just as powerful.
3. Honour the leadership and culture of your church in the public expression of your prayer. If you are experiencing a feeling or sense of direction that is different to the way the prayer meeting is being led and are unsure what to do about it, pray about it and check privately with the leader. It may be something for you to pray about personally.
4. Related to 3., remember that all prophetic revelation is subject to being weighed up. Submitting the direction of your prayer to leadership and at times needing adjustment is a vital part of your prophetic ministry. (1 Thess 5:19-22)
5. If you do experience manifestations, be aware of appropriate times and places. It is wise to save the 'emotional' part of releasing your gift until you can get alone with God. 'The spirits of prophets are subject to the control of prophets.' (1 Cor 14:32)
6. You do not need to carry an unhealthy emotional burden related to your ministry of prayer. If you are becoming weary or emotionally involved, check with a leader or have someone pray with you.
7. Prophetic intercession is a ministry of faith. We do not always know the reason for the prayer burden that the Holy Spirit gives us; neither do we always learn the outcome of our prayers. But we do know that God is faithful. And—that the greatest reward of prophetic intercession is intimacy with the Holy Spirit.
---
Notes:
[1] The NT Greek word for revelation, apokalupsis, means 'an uncovering,' or 'disclosure.'
[2] This has sometimes been called 'travail' and been related to birthing the purposes of God through prayer. The Apostle Paul said of the Galatians, 'My dear children, for whom I am again in the pains of childbirth until Christ is formed in you.' (Gal 4:19) One way this was likely to have been expressed was in his prayers.
[3] For insights about different prayer gifts, I highly recommend Intercessors Discover Your Prayer Power, by FEMRITE, T; ALVES, E; KAUFMAN, K.  2000.  Ventura : Regal.
---
Related Posts:
8 tips For Personal Intercessors
How To Increase Your Prayer Support Through Personal Intercession
17 Signs You May Be a Prophetic Intercessor
---
© Helen Calder Enliven Blog – Prophetic Teaching
Enliven Ministries: in the David McCracken Ministries family