"I am the vine; you are the branches. If you remain in me and I in you, you will bear much fruit; apart from me you can do nothing." (John 15:5)
The Christian life is meant to be one of reliance upon God, where the life of His Spirit continually flows in and through us.
However, we do not always remain intimately connected to Him. As a result, we experience times of spiritual dryness. [1]
---
7 Ways to Recover from Your Spiritual Dryness
If you recognize signs of spiritual dryness in your life, here are some ideas to help you recover:
1. Break the Blame Cycle
When we are working hard, serving, or ministering in some capacity, it is easy to lay blame for our dryness outside of us.
We may place responsibility for our depletion upon our busyness, our circumstances, or on other people.
However, as long as we are waiting for our situation or other people to change, we are disempowering ourselves.
Know that you can do something about spiritual dryness—it is time to take ownership of your spiritual condition and your relationship with God.
2. Recognise Your Deepest Need
'I will pour water on the thirsty land, and streams on the dry ground; I will pour out my Spirit…' Isaiah 44:3
According to scripture, the answer to spiritual dryness is intimacy with God and a fresh infilling of the Holy Spirit. Our need is for God Himself.
However, when spiritual dryness is related to Christian service or busy-ness, we often focus on external points of need:
'I need a break'
'I need help'
'Maybe I need a change of responsibilities'
These needs may be genuine—and we should make definite plans to meet them. However, we should never ignore the real, underlying need:
'I need to reconnect with God and be re-filled with His Spirit.'
3. Stop Deferring
A common response to spiritual dryness is to look beyond our present circumstances to some future time when we will have the space and opportunity to be refreshed.
This is the 'I am waiting for…' mindset:
I am waiting for this busy season to be over—and then I will have time to spend with God
I am waiting for assistance from another person
Let's face it—circumstances may not change immediately. By continuing to put our spiritual needs on hold, we face the danger of moving from dryness to burnout.
Take action now. If you do not have a day, take an hour. If you do not have an hour, find a moment with God.
Sometimes, a moment is all it takes.
4. Reconnect with God
Jesus said, "Let anyone who is thirsty come to me and drink." (John 7:37)
We need to do whatever it takes to get into a place where we encounter God. David spoke of this search in the Psalms:
'As the deer pants for streams of water, so my soul pants for you, my God. My soul thirsts for God, for the living God. When can I go and meet with God?' (Psalm 42:1-2)
For inspiration, recall previous times you have felt close to God or encountered Him in a significant way.
Acknowledge and repent of any areas of sin that the Holy Spirit brings to mind.
Recognise that you have a unique way of connecting with God. It may be through worship, or solitude, reflecting on Scripture, spending time with on-fire Christians, or taking time in the Great Outdoors. [2]
5. Ask God to Re-fill you
The best prayers are the simplest ones, such as
'Father, fill me afresh with Your Spirit.'
In the book of Acts, when faced with persecution, the church knew that their greatest need was not for circumstances to change. It was for a fresh empowerment of the Holy Spirit.
In answer to their prayer, the Holy Spirit fell upon them and gave them boldness to speak, and power to serve God. (Acts 4:23-34)
6. Review and Re-Focus
Jesus only did what He saw the Father doing. No more, and no less. (John 5:19)
There were needs that He did not meet because it was not in the Father's timing or purpose for Him to do so.
Some traps we can fall into include believing that:
Our role or ministry is indispensable
No one else can do a job as well as we can
Our work must always be done perfectly or at our own high standard (perfectionism)
Excellence honors God—but should never become more important than God.
If you can relate to this, I encourage you to review the story of Mary and Martha. [3]
7. Receive the Support of Others
In an extreme case of dryness, we need the help and support of others.
This may include:
Being honest
Asking for prayer
Receiving assistance
In God's Kingdom, this is not a sign of weakness, but of strength.
Your courage to align your life with God's priorities will inspire others to do the same.
---
Notes:
See my earlier article, 7 Signs of Spiritual Dryness (and Questions for Reflection)
[1] In this article, I am specifically discussing spiritual depletion. However emotional, mental, and physical fatigue can also occur, requiring additional needs to be met.
[2] For more thoughts on this, see
How To Discover Your Spiritual Pathway
Does Your Devotional Life Need Resuscitating?
How Using Your Learning Style Can Revitalise Your Bible Study
[3] I wrote an article about Mary and Martha here: The Most Important Decision You Can Make: 4 traps To Avoid in your Service for God
---
Help for Prayer Warriors: Overcome Spiritual Dryness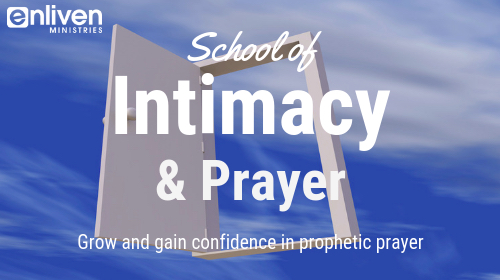 If you have felt dry or depleted in your prayer life lately, the lessons in my Prophetic Prayer School will be of benefit to you.
You will find these in the class, "How to Prevent and Recover from Dryness in Prayer":
Causes of Dryness and Depletion in the Intercessor
Ten Keys to Being Replenished as an Intercessor
Receiving Prayer: How to Stay Filled with the Holy Spirit Through Soaking Prayer
This impacted me personally, and I'm sure it will benefit many of you! I warmly invite you to join me in the Enliven School of Prophetic Prayer
Currently on the Enliven School of Prophetic Prayer are 41 video lessons (complete in your own time), along with PDF transcripts, exercises, and bonus eBooks.
Alternatively, you can view all online courses, including the Prophetic School here.
---
© Helen Calder Enliven Blog – Prophetic Teaching
Enliven Ministries: in the David McCracken Ministries family