Why is spiritual dryness so common, when as Christians, our life, witness, and service to others should be empowered by the life of the Holy Spirit within us?
This is what Jesus referred to when He said, "Whoever believes in me, as Scripture has said, rivers of living water will flow from within them." (John 7:38)
However, we do not always maintain that vital connection to God perfectly. And therefore all of us experience seasons where we feel spiritually dry.
The great evangelist D L Moody understood this. When asked why he placed so much emphasis upon being filled with the Holy Spirit, he wisely said, "Because I leak."
---
Why it's Important to Identify Spiritual Dryness
"Be [continuously] filled with the Spirit." (Eph 5:18)
Spiritual dryness, or depletion, is not a problem in itself.
In fact, the awareness of our spiritual dryness is a gift from God.
And it is His invitation to come and partake of His life and His Spirit.
However, spiritual dryness does become a problem if we:
Do not notice that we are becoming depleted, or
Do not recognize that God is the answer to our needs, or
Become too exhausted to connect with God
Therefore it is important for us to identify the signs of depletion as early as possible.
---
7 Signs of Spiritual Dryness
'You, God, are my God, earnestly I seek you; I thirst for you, my whole being longs for you, in a dry and parched land where there is no water.' Psalm 63:1
Here are some signs that we are becoming spiritually depleted. If you can relate to these, you need to reconnect with God and receive a fresh infilling of His Spirit:
1. A Sign of Depletion is Giving While Empty or Weary
A sign of spiritual dryness is that we are no longer giving to others out of a sense of fullness. We feel empty or weary—our inner tank is running dry.
Spiritual dryness if left undetected can turn into burnout if we continue to give out in Christian service whilst not being replenished.
If left untended, spiritual dryness can impact our emotional, mental, and even physical state.
2. Spiritual Dryness is Seen When We Give out of Duty
When we are spiritually dry there is a subtle shift in our motivation to serve God, whether in the church or elsewhere.
We are no longer motivated by passion. We feel an inner reluctance or resistance to serve, but continue to do so because we feel we have no choice.
Our motivation to continue serving may be that others are relying on us, or we want to honor a commitment, or even feel a duty towards God or towards His calling upon our lives.
3. We are Depleted When Our Faith is no Longer Contagious
According to David in the Psalms, the joy of our salvation results in us leading people to God.  (Ps 51:12-13)
So, when we are spiritually dry, it affects our relationship with those who do not know Jesus. We are not bubbling over, for we have lost our joy.
People are not seeing something in us that causes them to thirst for God, and we lack the motivation to share with them, feeling we have nothing to offer.
4. A Sign of Spiritual Dryness is When God Feels Distant
When we are spiritually dry, there can be a gradual distancing from God. Either we are not encountering Him regularly, or we are not hearing from Him, or we are hearing Him speak to us intermittently.
God is, in fact, continually speaking to us. However, sometimes we neglect to tune in. (Ps 139:17-18)
5. Our Spiritual Life is in a Rut When We are Spiritually Dry
We lack the excitement we once had in our relationship with God. Our devotional life—connection to God through the Bible and prayer—has either been reduced to a rote exercise, is occasional, or has ceased to exist at all.
We love God but have lost a sense of being "in love" with Him. Our relationship with God has lost its freshness.
6. There has Been a Contributing Event to Spiritual Dryness
The state of spiritual dryness does not always creep up on us slowly. Trials or sudden trauma can result in us being depleted spiritually, as well as in other ways.
7. Negative Thinking is a Sign of Spiritual Dryness
 'The Kingdom of God is… righteousness, peace and joy in the Holy Spirit.' (Rom 14:17)
When we are spiritually dry the atmosphere of heaven—righteousness, peace, and joy—seems to evade us. Instead, we find it easier to give way to negative thinking. We falter in our ability to resist and 'cast down' destructive thoughts and emotions.
There is an Answer to Spiritual Dryness
The good news is that when we are spiritually dry, God has already initiated and provided the answer to our needs.
In the next post, 7 Ways to Recover from Spiritual Dryness, I will discuss some ways in which we can be replenished spiritually. In the meantime, here are some questions to consider:
Questions for Reflection about Spiritual Dryness:
Do I have any of the above signs of spiritual dryness in my life at the moment—and to what degree? How long have I felt this way?
What is the difference between emotional, mental, physical, and spiritual depletion? How are they interrelated?
What is God's response to my spiritual depletion?
What can I do this week to personally reconnect with God?
---
Help for Prayer Warriors: Overcome Spiritual Dryness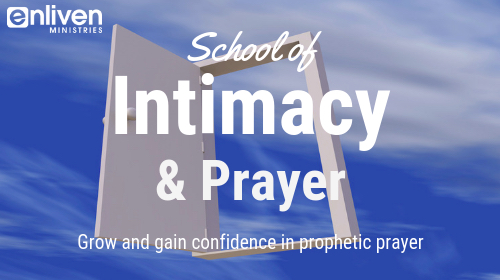 If you have felt dry or depleted in your prayer life lately, the lessons in my Prophetic Prayer School will be of benefit to you.
You will find these in the class, "How to Prevent and Recover from Dryness in Prayer":
Causes of Dryness and Depletion in the Intercessor
Ten Keys to Being Replenished as an Intercessor
Receiving Prayer: How to Stay Filled with the Holy Spirit Through Soaking Prayer
This impacted me personally, and I'm sure it will benefit many of you! I warmly invite you to join me in the Enliven School of Prophetic Prayer
Currently on the Enliven School of Prophetic Prayer are 41 video lessons (complete in your own time), along with PDF transcripts, exercises, and bonus eBooks.
Alternatively, you can view all online courses, including the Prophetic School here.
---
Related Posts:
7 Ways To Recover From Your Spiritual Dryness
Preventing Ministry Burnout: 6 Questions You Can Ask
7 Ways to Overcome Spiritual Dryness: My Story
---
© Helen Calder Enliven Blog – Prophetic Teaching
Enliven Ministries: Prophetic Ministry for a Revival Generation