When we experience a spiritual attack as Christians, we need a plan to deal with it as well as to recover from any injury that we may have sustained.
R.I.C.E is an acronym used for treating physical injuries:
Rest
Ice
Compression
Elevation
Here is a strategy for dealing with spiritual warfare that I have developed for our training using the R.I.C.E acronym.
R = RECOGNISE the Battle 1 Peter 5:8
Be self-controlled and alert. Your enemy the devil prowls around like a roaring lion looking for someone to devour.
The first step in dealing with spiritual warfare is simply to recognise that it IS a spiritual battle.
This might sound very simplistic, but in reality, this is half the battle! Remember, the enemy likes to operate under cover, in darkness. (Eph 5:8-13)
You may be drowning in discouragement, pain or condemnation. And the accuser will make sure that you think it is just YOU, that you have done something to deserve it.
Once you recognise the signs that you are experiencing spiritual warfare, you are on the way to winning the battle.
I = IDENTIFY the Enemy's Strategy
There are three things it is helpful to identify when you are experiencing a demonic attack:
1. MEANS:
Isa 54:17
No weapon forged against you will prevail, and you will refute every tongue that accuses you.
What, or who is the enemy using to fulfil his purposes?
Is it personal? It may be something physical such as a health issue, or it could be an internal, soul issue such as a personal weakness or pain from your past.
Or is it a circumstance or person external to you, such as a work colleague, family member, or even the weather or traffic!
If it's something external that you cannot change (except by addressing it through prayer), remember that you can control your RESPONSE.
2. MANDATE:
2 Cor 2:11
… in order that Satan might not outwit us. For we are not unaware of his schemes.
Where there is a battle, there is BOUNTY. If there is warfare going on, you know that the enemy will be after something. It may be helpful to identify what that is.
What is he after? Does he want to compromise or destroy your ministry call, your sanity, your health, your marriage or family relationships? Is he after your peace with God, your joy, or does he want to steal away a word God has spoken to you?
3. MESSAGE:
Gen 3:1
Now the serpent… said to the woman, "Did God really say, 'You must not eat from any tree in the garden'?"
When under pressure, ask: what is the message Satan wants me to BELIEVE?
What is he saying – identify any battle going on in your MIND. What are the 'tapes' that are playing there?
The enemy usually wants us to give up. You might recognise these examples:
I can't do it!
It's hopeless!
Someone else could do this better than me!
Did God really say that / call me /heal me? (Doubts)
Note that the enemy often speaks in the first person—we think it is us!
**************************************
In the next post, I will look at the last two parts of the RICE strategy, the proactive ways we can enter into the victory Jesus' has won for us on the cross. These keys to overcoming in spiritual warfare are:
C = Combat, and
E = Enlist Help
---
Spiritual Warfare Online Course
I have just launched first new online course, 'Spiritual Warfare 101: How to Identify and Overcome Spiritual Attack' and I warmly invite you to join me!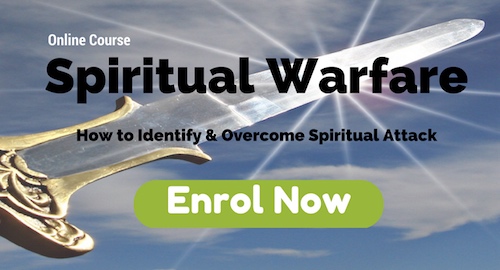 This course includes around 30 mini lectures on video, and is full of Biblical wisdom and strategies to help you overcome in time of battle. There is also a downloadable full transcript in PDF version.
And once you're in, there is no expiry date, so you can continue to journey with me through upgrades and increased course content in the future.
The Bible has great news. If you have discerned signs of spiritual warfare, you do not have to be weighed down by spiritual oppression or put up with pressure and attack! Find out more about the course, 'Spiritual Warfare 101: How to Identify and Overcome Spiritual Attack' here.
---
Related posts:
Responding to Spiritual Warfare Pt 2: Time To Engage
Prophetic People & Spiritual Warfare
Your Prophetic Word And Spiritual Warfare
---
© Helen Calder   Enliven Blog
On team with David McCracken Ministries