Do you want to develop or sharpen your prophetic gift? Journaling is an easy but powerful tool for prophetic activation. It can help you grow your gift of prophecy.
Journaling is basically recording any insights you receive from God during your prayer and Bible study times.
Some ways journaling can help you grow in your prophetic gift are:
It encourages you to listen to God and become familiar with His voice (John 10:4). You can also practice receiving revelation from God and processing it.
Journaling helps you remember what God has spoken to you by providing a record to refer back to
It provides a means of focus, discipline and accountability
You can practice putting what God is saying into a clear and communicable form—a necessary skill for prophecy
You can look back later and see what, in the case of prophetic revelation, has come to pass—this helps sharpen your gift.
Journaling provides a record from which you can pray God's purposes into being
You can get more revelation when you journal. Once you record what you have received, it frees your mind so that you can be open to hear more of what God is saying.
You can use what you have received in your journaling time to share with others
It brings glory to God when the things you have journaled take place
It provides a safe place to practice receiving and processing prophetic revelation without the pressure of public exposure
You can use what you have heard from God to help you walk with Him and obey Him (Hab 2:2)
Journaling in scripture
For an example of journaling, we don't have to look past the Bible itself. Much of scripture is prophetic revelation recorded in written form.
What Do You Need for Journaling?
The type of journaling you choose should suit your personal style. There are also a variety of media you can use to help you journal. These include:
Writing in an A5 or A4 journal
Typing and recording your journal using a computer.
If writing or typing is difficult for you, you can record your journaling in small, bite-sized files using a recorder, MP3 recorder, or mobile phone, then name and store them for later reference.
Journaling is essentially private, but if you would like to share from your journal, another media you can use is the Internet. Some of my blog posts started out as journal entries.
It is best to keep your journal notes together in one place, such as a notebook, journal or single folder on your computer. This way, you can refer back to them later.
Types of Journaling
You don't have to stick to any one type of journaling. Choose a journaling style that best suits you.
Some simple options you can use for written journaling are:
Two popular methods that can assist you with the journaling process are:
1. SOAP method (Scripture, Observation, Application, Prayer)
2. Prayer journaling
Remember that journaling methods are tools, not rules.
Journaling Should be Weighed Up
Prophetic journaling is always to be viewed (like prophecies and other prophetic media) as needing to being weighed up. (1 Thess 5:19-20, 1 Cor 14:29, 1 Cor 13:9,12) Our personal journaling can be a mixture of what God is saying, and the processing of our own souls in our journey with Him.
Filters for prophetic journaling include: submitting to leadership and accountability (for weighing up), checking against Biblical principles, checking against the fruit of the Spirit and Godly outcomes, and so on.
It should never be seen as 'dictation from God' because that is where we can move into error.
See more in this article: 'Take Time to Sharpen Your Prophetic Gift'
The Two Week Journaling Challenge
I will be reviewing the prayer journaling and 'SOAP' methods in the next couple of posts.
I am not currently using these two journaling styles (I use mind-mapping). But I will use these methods for one week each as I blog about them, and describe my experiences in the comments section of each post.
It would be fun if you would join me on this 'two-week journaling challenge.'
Consider some of the benefits I have mentioned in this post. Journaling can help you sharpen your prophetic gift, and it could change your life as you hear from God.
---
Would you like to develop your prophetic gift?
Here are 3 things that can help you:
1. Prophetic Teaching:
Enter your email address in the subscribe box at the top right hand side of this page to receive:
regular blog posts containing teaching that will help you grow in your gift of prophecy, as well as articles on spiritual gifts, prayer, spiritual renewal and supernatural Christian living
2. Prophetic Training:
Check here for prophetic training resources and information
3. E-books to Help you Develop Your Gifts: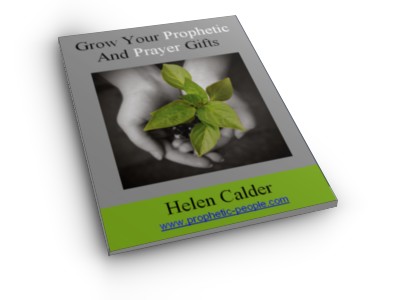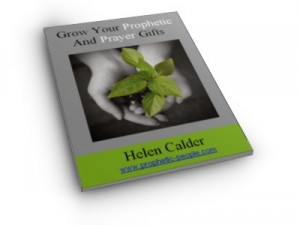 'Grow Your Prophetic And Prayer Gifts' is a high-value e-book specifically written to help you grow in your prophetic gifts – at whatever stage or season you are on the journey.
Check out our e-books page for more e-books related to prophetic and prayer ministry.
---
© Helen Calder    Enliven Publishing